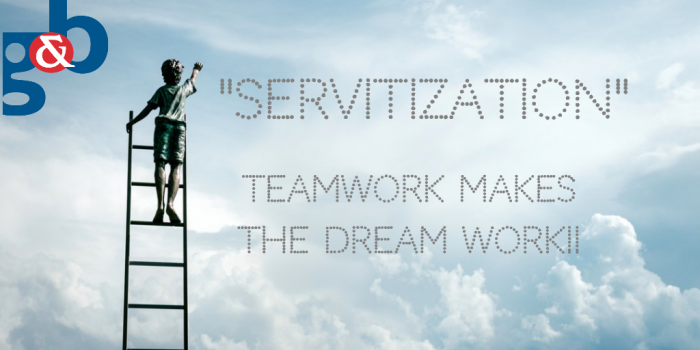 As a contract manufacturer of Printed Circuit Board assemblies and electronic products we are seeing an increasing in demand for "servitization" to create an overall more productive and lean supply chain strategy.
Our journey started with one of our medical customers, Lifelines whose core activities were to develop, market and sell sophisticated medical products. To truly outsource their manufacturing they needed a partner who could manufacture the product, hold their stock, configure their device to the end user requirements, have the ability to manage a comprehensive range of product accessories (often one unit is packed with up to 25 accessories) and finally ensuring that their product is sent in its correct packaging with their branded paperwork.
In addition to this they have post sales servicing requirements that need to be managed along with all the paperwork necessary for regulatory compliance, return handling and trend analysis.
G&B were successful in delivering a solution which, in summary, means Lifelines never needs to see or touch the product, it goes straight to the end user. G&B manage the servicing of rented or sold products and any issues that the end user has with the product. No matter the age, they come straight back to G&B.
This model generates a number of benefits for our customer. For example they do not need a storage location or a stores team, nor do they need an inspection department, IPC certified staff or an ESD controlled and audited area. They do not have to manage the quality control of accessories, or pay for shipping between us, as their supplier, and their facility which obviously has a positive environmental benefit. Their engineers aren't tied up fault finding customer returns or product failures and product reaches their end users faster.
"Lifelines Ltd designs and develops complex electronic medical diagnostic equipment, which G&B then manufacture.
Over the last 18 years, we have built up a lean supply and support process that enables us to focus on our core activities of product development and increasing our market share, secure in the knowledge that G&B are able to provide us with the reliable and comprehensive support that we require. This has enabled Lifelines to build up an installed base of many thousands of systems worldwide and become a preferred supplier of Home Monitoring Ambulatory EEG equipment. We have branched out with our range of very high-end equipment to clinics and hospitals allowing them to conduct laboratory, research as well as routine EEG studies. G&B handle our returns and RMA procedure, receiving units directly from our customers and undertaking test, repair, upgrade, recalibration and full factory refurbishment. All this is undertaken according to a strict ISO9001 and medical ISO13485 quality system within closely monitored timescales, to detailed procedures and cost targets. Our customers require fast turn-round times and consistent quality, which G&B unfailingly deliver on our behalf. We are very pleased with the performance of G&B in supporting this aspect of our business. "
David Hulin – Technical Director
Lifelines Ltd
Since we have set this up much of our new business has been driven by this attractive approach to servitization to the point where we are now scoping a database solution to control the whole process far more efficiently than the duplication of paperwork exercise that currently takes place between us and our customers. Of course this is optional and an alternatives include us hosting a customer's database terminal in order to action their sales orders and control stock on their behalf.
If you are thinking about the benefits of servitization and the solutions your business should be taking advantage of we recommend giving some thought to the following 11 points.
Which of your products/product ranges could suit this model?
What additional regulatory requirements will your partner need to comply with?
Controlling stock from an accounting perspective. Your supplier will need to invoice you so you can ship and invoice to your customer, how is this going to be managed from their site?
Who is insuring the stock, it could very well be cheaper to add them as a location to your insurance rather than take on theirs.
What will your database solution to control this process look like and how will this be maintained?
How are you going to ensure that the necessary paperwork, branded as your company, ships with the goods, do you have specific couriers for particular customers that must be used, how will this be controlled?
What level of serial number traceability do you need maintained?
How are bespoke packaging and accessory stock levels going to be managed?
What reports will you require for your accounting and admin teams?
What additional stock needs to be held for ongoing servicing and repair?
How much space is going to be required at your manufacturing partner?
There are also some things we wouldn't recommend;
Don't kick off all in one go, make this a staged transition process inevitably there will be local knowledge that may come to light and need to transition.
Don't rush, getting the accounting and database logistics set up and tested may involve many stakeholders, allow proper time for validation of systems and processes.
Don't expect extra payment terms. There are many benefits for this model but not paying for the product until it ships to your end customer may not be one of them.
All of the above are easily overcome with the right partner, anyone working in this space will probably have solutions available for you to choose from so all you really need is a robust data pack and clear numbering systems that controls all your variants and accessories.
If you are interested in exploring how Servitization could help your business please contact us on gbsales@gandbelectronics.co.uk