Prototypes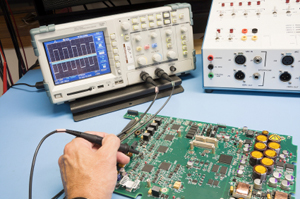 The production of a prototype is a vital stage in the project development not only for proving the design and highlighting potential problems early in the development cycle but also for validating the manufacturing data. Excellent communication channels between design and production are essential to successfully manufacture and address any issues that arise during production, in order to deliver in accordance with your project plan.
G&B offer a comprehensive service to manufacture prototype PCB assemblies, enclosures, box builds and cables to name a few. Upon delivery of product they follow up with a prototype review and production data validation report for evaluation by your design team. This report details any issues that have arisen with the manufacturability of the product itself plus details of any queries with the production data, ie unclear notes on the assembly drawings, or missing polarity information for example.
G&B also offer a comprehensive rework service to assist with fault finding and development of built prototypes, removing and replacing components as required on very fast turnaround.
Electronic Manufacturing Services (EMS)
Benefits
Our focus on the Prototype stage of the project development brings added value benefits, including:
Prove various stages of the design
Visual and physical example of what the product will look like
Evaluation of the product assembly techniques required at an early stage to assist with volume production costings
Produce DFM (Design for Manufacture) and DFA (Design for Assembly) feedback.
Possible reduction in project tooling charges later if prototype tooling and stencils etc have been created with production quantities in mind.
Investment in the latest technology assembly equipment
Latest technology in cleaning facilities
A highly skilled IPC certified workforce
A fully air conditioned ESD controlled and certified factory
Experienced planning team to set up, control, monitor and validate your product manufacture.
Serial number control and traceability
ERP Database Control
IPC certified RoHS and NON RoHS rework facilities
If G&B have been involved in the design then additional benefits would also include:-
Improved communication between design and production resulting in a faster turnaround and lower margin for error.
None of your time is spent going between your design and production houses passing queries and solutions back and fourth.
We would have looked at designing in our standard ranges of components so you won't have to pay for MOQ or handle excess unused components
Use of our standard range of components will mean we can build more of the PCB automatically this will result in faster turnaround time and improved quality.
Capabilities
The capability to operate the most efficient systems and processes effectively is assured by our experience and resources across:
Fast turnaround
SMT Assembly - hand build / semi automatic build / fully automatic build
Mixed Technology PCB assembly - hand build / semi automatic build / fully automatic build
BGA and µBGA Assembly - semi automatic build / fully automatic build
PTH/Conventional/Leaded Assembly hand build
RoHS and Non RoHS processes
Smallest component 01005's
Smallest pitch 30 microns
Placement of all fine-pitch QFP, BGA, µBGA, CSP packages
PCB size capability from 50 x 50mm to 460 x 440mm
Cleaning Facilities
Conformal Coating
Labelling / traceability / serial number control
Samples
Label sets,
SLA's
Metalwork
Cables
Box Builds
Sub Assemblies
Prototype Review Reports
Production Data Validation Reports
Rework
Quality
Quality is paramount in manufacturing and G&B have undertaken the following to ensure that their process control and product quality is at the top of its game, of which our standards include:
ISO 9001:2015
IPC-A-610D (Inspection)
IPC J-STD-001D (Assembly)
IPC 7711/7721A (Rework)
ISO 14001 (environmental) final stages ­ pre audit.
BS EN 61340-5-1/2 (ESD)
In addition to these standards we also have the following Medical quality standards enabling us to CE Mark medical product on behalf of our customers:-
FDA Registered and Inspected
Directive 93/42/EEC for Medical Devices Annex II (3),
Certification for the accreditation of foreign manufacturing in Japan
General:
All assembly and rework equipment is regularly serviced under maintenance contracts
All equipment is regularly calibrated
All processes and procedures are regularly audited both internally and externally.
We maintain full operator to serial number traceability.
Reports
If required G&B and provide a Process Validation Prototype Manufacturing Report to support your prototype for evaluation by your development team the report includes review of the following:
Reported results / issues.
Purchasing:
Production:
Inspection records:
Test records / specification:
Drawing package:
Conclusion:
Plant List
At G&B we use a variety of prototype design and production methods:
IPC certified hand-placed techniques for SMT and conventional components, suitable for low-volume, fast-turnaround prototypes
BGA assembly, inspection and rework, using our Ersa scope optical alignment system
Fritsch semi automatic pick and place machines for SMT placement
Copyright © 2021 | G&B Electronic Designs Ltd
Site map | Privacy

Manufacturing Services

Contact

T: 01420 474188
F: 01420 485277
G&B Electronic Designs Ltd
54 Woolmer Industrial Estate
Bordon
GU35 9QF