The Manufacturer magazine has announced the UK's 100 most inspiring and influential individuals in its TM Top 100 2016 report and it includes our MD Laura McBrown!!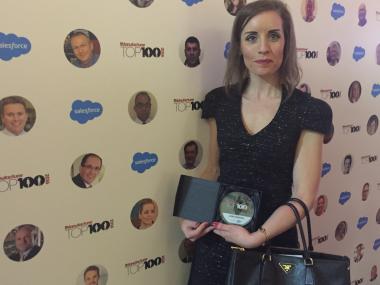 This launch event shortlisted candidates and the wider manufacturing community joined industry leaders at an exclusive event at Birmingham Museum and Art Gallery to celebrate the report's launch.
Read the full list here!
The project, this year sponsored by Salesforce, aims to dispel myths surrounding manufacturing and create a platform to champion and publicly identify dynamic leaders and innovators in the sector.
This year's TM Top 100 comprises incredible candidates hailing from all over the country, from a range of sectors and occupy varying roles in manufacturing.
Names that made the list as exemplary figures included Davinder Bains, managing director, Magal Cables; Mary Brady, vice president and general manager, Coty; Jordan Daykin, managing director, Gripit Fixings; and Carl Perrin, director, AME; and Ewan Lloyd-Baker, chief executive, Hayward Tyler Group.
Individuals were nominated by readers of The Manufacturer Magazine, the wider industrial community and the public, for their contributions in changing the face of industry; finding new markets; making marked investment in people, processes and customers; those who shy away from the limelight but make it their professional responsibility to enable others up and down the business hierarchy; as well as those young, bright sparks that are making an impact disproportionate to their years.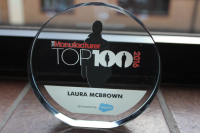 The list was decided by an expert panel of judges from academia, industry and the wider manufacturing community including, see the full list here.
Max Roberts, vice president and UK leader of manufacturing & automotive salesforce, and TM Top 100 judge 2016 said: "The individuals showcased in The Manufacturer Top 100 are changing the face of British manufacturing and redefining the industrial landscape as we know it.
"Their innovation is pioneering new ways of engagement, and together with these visionaries, we can provide the tools required to write our future."
Nigel Fine, Chief Executive of the Institution of Engineering and Technology (IET) and TM Top 100 judge 2016 said: "The UK's manufacturing industry makes a significant contribution to the UK economy – so it's vital that government, employers and professional bodies continue to work together to ensure that our manufacturing industry thrives.
"The Manufacturer Top 100 is a great way to celebrate the diversity, creativity and success of our manufacturers and inspire role models to attract more young people into manufacturing."
Alan Foster, Operations Director, McLaren Automotive and TM Top 100 2016 judge said: "In a fast moving global economy, which is seeing market forces and costs rebalancing internationally, to have an organisation like The Manufacturer forcing the debate on manufacturing prowess in the UK is vital.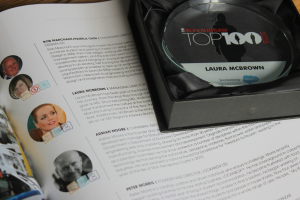 Striving to provide young people with manufacturing excellence role models is a vital initiative."
Our Laura McBrown, said "it was a wonderful surprise to be part of the report and short listed amongst some outstanding industry leaders. The manufacturing and engineering sectors have a huge amount to offer the economy and our next generation so I thank the Manufacturer for all their efforts in helping to raise the profile of this important industry."