One of the first challenges faced by companies looking to have their PCB manufactured by a 3rd party is "What do we do about Test". When a new board is manufactured in-house it is often easy to just plug it into a working unit and see if it functions correctly. If the board has faults, they can often be diagnosed quickly and easily because of the level of in-house knowledge. However this option is not available once the move to a sub-contractor manufacture has been made.
This leaves them with a dilemma that is not always easy to overcome. They could develop a functional test rig and provide this to the sub-contractor or ask the sub-contractor to do the development. More traditionally they might go down the In-Circuit test route and manufacture a Bed of Nails test to check manufacturing quality.
The modern alternative is to choose a sub-contractor who offers a Flying Probe test capability.
Flying probe testers work by In-circuit testing the board via a number of moving test probes. They have the advantage over traditional In-circuit testers of not requiring a dedicated "bed of nails" test fixture thus reducing the price for each different board being tested.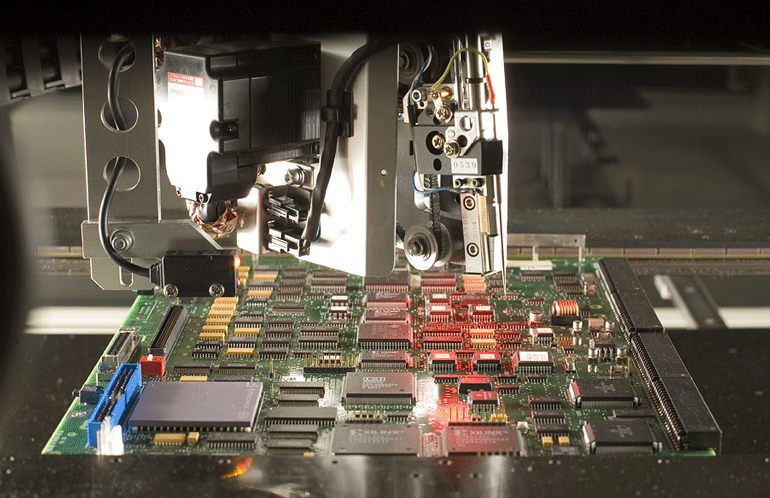 In addition, modern Flying Prober testers offer so much more than just In-circuit testing. They enable the user to combine In-circuit, AOI, Functional, Device Programming and Boundary Scan testing, in one test system. They work from CAD data and can quickly and easily be programed to take into account customer board changes and revisions.
What's more, Flying Probe in the main require little in the way of design modification to allow test access. With the ability to probe on component pads, via's and IC legs Flying Probe can access parts that even the best In-Circuit testes are unable to access. DFT analysis can mean design changes if required can be done long before the product reaches production. Couple this with quick change over times and the ability to be used in-line Flying Probe makes the "Question of Test" quicker and easier to overcome.
If you're interested to see what Flying Probe test can do for you please contact Bill Henderson 01420 474188 for your free Testability Report.