Warehousing and logistics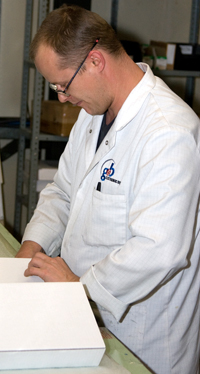 This final stage of the manufacturing process is an area not fully utilised by most companies. G&B believe that if you contract out your manufacturing, then you should received complete, tested and final packaged product that you can sell.
If it is in its final packaging ready for sale does it make sense to send us your delivery note and we'll ship direct to your distributors? Saving you storage space, admin charges, insurance costs and potentially halving your shipping costs.
If G&B can ship direct to your customers or distributors, could they deal directly with your customers / distributors for any returns, upgrades etc again saving you time and money?
G&B offer a variety of options to help you get lean with your manufacturing partner and drive out costs, call one of our sales team today to find out how we can help you.

Electronic Manufacturing Services (EMS)
Benefits
Improved cash flow
Reduced stores space requirement
Reduced stores administration
Reduced admin costs
Reduced stock insurance
Reduced shipping charges
Fully air conditioned stores
ERP controlled to packing level
No requirement to buy and hold stock of manuals, packaging and other off the shelf items
Capabilities
Kan Ban
Worldwide shipping
Serial number to distributor or end customer traceability
Limited liability to forecast
Printing of manuals and bespoke printed packaging
Supply of product accompanying items such as bags, harnesses, fixings etc
Creation of ERP controlled packing instructions
Customer returns
Customer Upgrades
Quality
All G&B's final packing contracts are controlled by their database, each one has a quality controlled work instruction to ensure your product is packed with the upmost care ensuring that your customers are delighted with their purchase.
Copyright © 2021 | G&B Electronic Designs Ltd
Site map | Privacy

Manufacturing Services

Contact

T: 01420 474188
F: 01420 485277
G&B Electronic Designs Ltd
54 Woolmer Industrial Estate
Bordon
GU35 9QF