G&B are delighted to announce the implementation of Vision Engineering's High Performance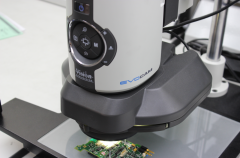 EVO Cam Digital Microscope technology into their inspection processes.
These EVO Cameras are a full-HD (1080 / 60fps) high performance digital microscopes and are optimised for quality control, testing, inspection, documentation and simplifying precision magnification tasks. The full high definition live video imaging brings to life a macroscopic world in stunning detail, with magnification options up to 300x and full auto focus to ensure ultra-sharp imaging.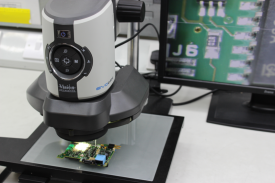 This investment will enable G&B to embrace the continued miniaturisation of the electronics industry, expand their rework and repair capabilities and capture high quality images that can be utilised during process development and the creation of comprehensive work and inspection instructions.
Richard White, Head of G&B's Operations said "we are also noticing the benefits of this investment in our productivity. The magnification we can access means that decisions can be reached far more quickly and the screen plus the 360o rotating viewer facilitate a constructive discussion where everyone is able to view the image simultaneously. An added benefit is the quality of images we can send to customers when we have queries with or need to clarify assumptions." For more information on G&B's range of PCB and electronic product assembly services please go to www.gandbelectronics.co.uk or call one of our sales team on 01420 474188.