Company History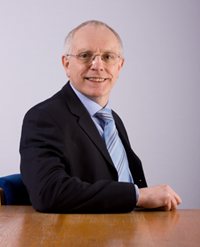 G&B Electronics Designs Ltd was established in 1980 by founder George McBrown. The company was set up to offer Electronic Design and Manufacturing services from offices above a motor cycle shop in a small town called Haslemere situated in the south of England. From the outset the company offered its customers design services using Computer Aided Design (CAD) techniques, rare in 1980.
The success of the CAD design service encouraged the company to moved to a purpose-built factory 5 miles away in Liphook in 1983. The move provided space for more design resource and an area for prototypes and batch manufacture.
G&B stayed in Liphook until 2003 developing its design service and manufacturing skills. By this time G&B had outgrown the original factory despite acquiring a second factory and relocating Design and Administration to a nearby office. The decision was made in July 2003 to move to a larger premised 5 miles away in Bordon, bringing the company back under one roof.
The move to Bordon provided the extra manufacturing space to undertake volume manufacture. Accompanying the move was an investment in plant and equipment particularly for robotic assembly of micro circuits, (pick and place machines). Increasing lines from one at Liphook to four.
Since the move to Bordon the company has expanded its manufacturing capacity by acquiring the adjoining factory increasing floor area to 24,000 Sq Ft. This additional space provided room for a further high speed SMT line as well as a training area, office accommodation and a further assembly workshop.
Bringing the story up to date, the number of staff at G&B is now 47, the quality system has kept pace with the expansion, approvals include ISO9001-2008, ISO13485 2012 (Medical) and EC Certified to 93/42/EEC for medical devices Annex II (3). G&B are registered with the FDA as a contract manufacturer and have been inspected three times to ensure compliance with US regulations. To ensure efficient manufacturing control, G&B are upgrading their ERP system to SYSPRO with ARM finite capacity planning which is went live Dec 2011. This ensures better control of costs and on time deliveries.
Electronic Manufacturing Services (EMS)
Copyright © 2021 | G&B Electronic Designs Ltd
Site map | Privacy

Manufacturing Services

Contact

T: 01420 474188
F: 01420 485277
G&B Electronic Designs Ltd
54 Woolmer Industrial Estate
Bordon
GU35 9QF